How to Ask Your Customers for Feedback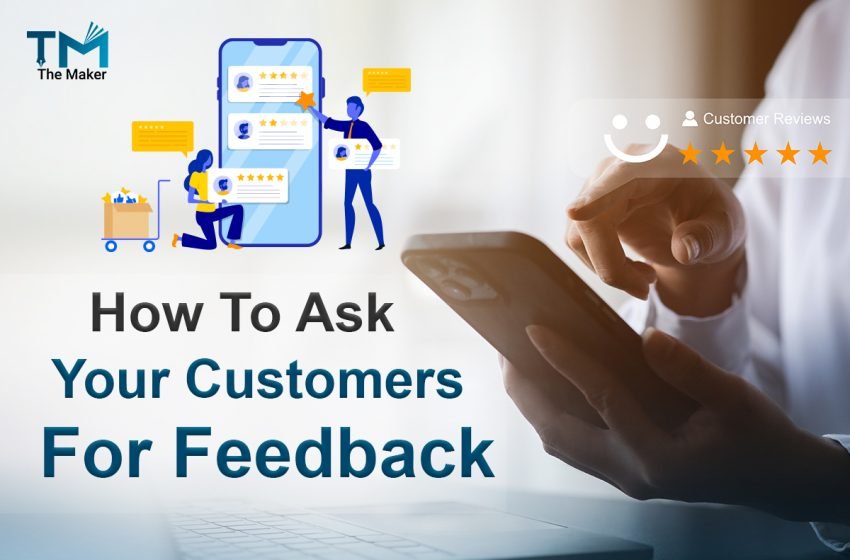 For any company or business, customer feedback is a precious asset. It is absolutely necessary, whether positive or negative because it is the vital source based on which you can determine what your customer wants and what you can do to satisfy them. After all, in business, customer satisfaction is the ladder to take your business to the top. The best way to serve and satisfy them is to measure customer satisfaction by analysing your customer's feedback.
Before we jump to know how to obtain feedback from the customers and how they get to benefit from that feedback, let's know what it actually means.
What is customer feedback?
Customer feedback is defined as the expression of feelings in the form of verbal or written format from the customers about your brand, products, or services that you provide. It shows you your customer's satisfaction or dissatisfaction level, upon which you can plan new strategies to improve your business.
Why is it necessary?
Customer feedback is a great way to find and improve the loopholes and address the customers' needs. On analysing the feedback from the customers, you can definitely come to know where you are right or wrong in their eyes.
The data collected from the feedback helps the company not only to serve the existing customers but also to attract new ones.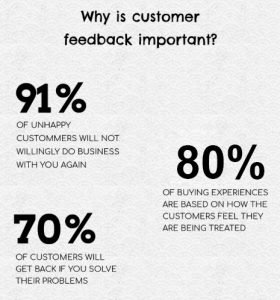 Here is a benefits list of customer feedback:
Measure customer satisfaction
In business, it is the feedback from customers that helps to measure customer satisfaction. They can able to know their customers' opinions regarding their products or services.
Identify the areas of improvement
Asking customers for feedback about a product or service helps companies understand what type their customers want. This helps to develop your products or services by eradicating the problems.
Develop customer trust
Always asking customers for feedback shows them that you value their opinion. For this, they develop trust in you and feel more attached to that particular company.
Reduce customer hassle
Your on-time reaction to negative feedback and solving the problems make your customer happy and reduce their intimidation.
Marketing
Feedback from the customer provides marketing professionals of a company key insights into the customer's trends and buying habits. The information can be used by the marketing teams to approach decisions that help to reach customers in new ways.
Now undoubtedly, we can understand the benefits of feedback. So collecting feedback from the customer via different methods is essential for every business. So let's progress to know how!
How to ask your customers for feedback?
After reading the above paragraphs, you surely understand well the need and benefits of customer feedback in business. Let's continue this discussion further to know how to ask the customers for feedback.
From structuring the right feedback questions to asking them through various methods, let's blend them to get meaningful feedback.
Reach out to the right customers
Customer segregation is crucial before you reach out to them. You need to discover who is your brand promoters and denigrator because it helps you to connect with them.
To obtain relevant customer feedback, you need to prepare the right set of questionnaires. Do not ignore any groups. Give importance to both new as well as existing customers because acquiring a new customer is quite more extortionate than retaining the existing one.
Moreover, it is recommended to contact or respond to denigrators personally because their feedback can work as a great opportunity to improve your products and retain them.
Ask for feedback at the right time
Choosing the right time or the moment is the key aspect in business to contact your customers for asking feedback. The right moment will help you to gather more worthwhile feedback. So it will be good to ask for feedback after a customer service conversation, a successful transaction, resolving the problem on a customer's request, a demonstration of a product, or any other. That time it makes them feel satisfied and natural if you as for feedback.
Make the right set of questionnaire
Before going to prepare any question to ask, you need to understand the actual purpose behind asking the feedback. Whether for improving your website, providing better customer support, shaping your product roadmap, or anything, obtaining feedback from the customers can't be ignored.
But the way of asking specific questions determines what type of answers you will get back. So you need to decide which will be better- closed ended or open ended questionnaire.
Closed-ended questions:  These types of questions are prepared in a way that can be answered in a single word, or the respondents have to select one option. For instance, "Are you satisfied with this product?" To reply to this question, you need to select one option- Yes/No/Mostly/Not sure.
Open-ended questions: These are completely opposite to closed-ended questions because you can't answer in a single word; rather, you need to answer in detail. You can give your feedback in a descriptive manner. For instance, Why do you want to return this product?
Choose the right methods to gather feedback
It is usually noticed that customers are reluctant to submit their feedback. It may be for their busy schedules, or they do not want to spend time pointing out product qualities or flaws. So you must be careful while asking questions because your irrelevant questions may irritate them, and you may fail to obtain honest feedback.
To collect authentic feedback, you need to select the right customer communication channel. Here is the list of channels you may choose based on your preferences:
When customers want to know anything more about your brand, they prefer to visit the website. There you can gather insightful feedback from visitors that can guide you in developing your product or services in order to provide them with what they really want.
Moreover, it helps to identify and solve problems that your customers complain about. You can place pop-up surveys and live chats or offer incentives in terms of coupons to encourage them to give their valuable feedback.
In-app feedback is a good way to accumulate relevant information from users. Collecting feedback from them is more worthwhile because they are using or already have used your product, so they can share better experiences about the product.
Still today, email is considered one of the most appropriate ways to collect customer feedback. You can use every interaction as a golden opportunity to grow your business.
One should not underestimate this SMS channel to request customer feedback. When people can not keep their phone aside for a moment, you can imagine how powerful it is there. It is a great way to communicate and has higher opening rates than email.
This channel is mostly preferred by sales assistance, customer support, or service team. In this, they ask for feedback just after the end of the conversation to know the customer's honest review about their conversation experience and the representative's performance.
Here the feedback is collected usually based on star ratings or sometimes with a couple of short questions.
It is the general tendency of people to use free WiFi. Today bars, cafes, hotels, and even stores are providing free WiFi to attract more customers. This can be a win-win business strategy. Because you can require your customers to create a free account to access WiFi free of cost, then you capture the email address to ask for feedback.
After the internet revolution, almost every person is connecting with social media, which is a great boon for business people and entrepreneurs. They can easily target their audience and reach them via Facebook, Instagram, Twitter, etc.
Nowadays, customers prefer to share their good or bad experiences with products across social media channels such as Linkedin, Twitter, etc. So ignoring such a platform creates a wrong impression about your product in the customers' minds. If you get any feedback, take appropriate action seriously.