Top Tech Gurus of the World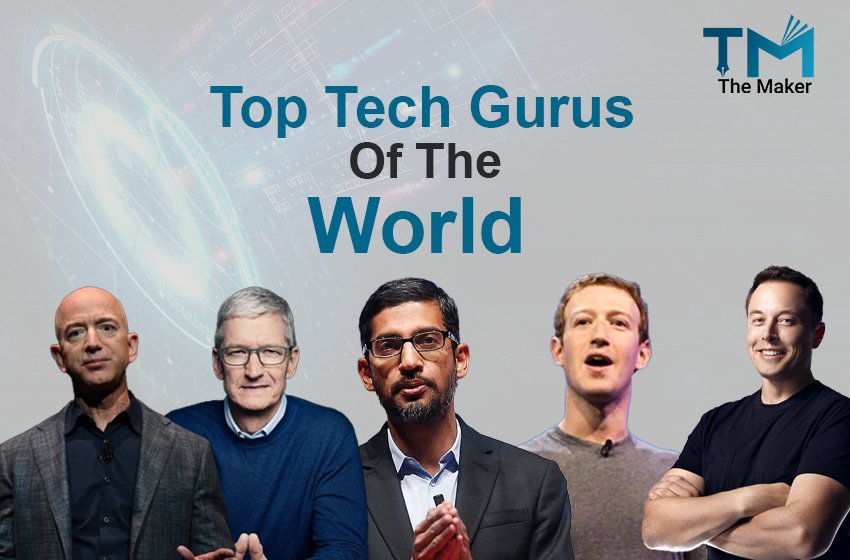 Today we are fully encompassed by technology; from small to big needs every time we depend on it. For this, people quoted this age as the 'Age of Technology. From time to time, many great tech leaders have been born and contributed innovative ideas to the technology sector. Thatswhy people acknowledged them as the tech influencer and gurus of the world.
Among the list of too many tech gurus, let's know about some of the top tech gurus of the world.
Mark Zuckerberg: Facebook Co-Founder
Mark Elliot Zuckerberg, Chief Executive Officer and founder of Facebook, launched this social media website in 2004. At 23, he became the world's youngest self-made billionaire in 2007. He was ranked 11th in the Forbes 400 list of wealthiest Americans in 2022, with a net worth of 4,840 crores USD.
Founder, and Chief Executive Officer of Tesla, SpaceX, and others, Elon Musk, is recently in the news for Twitter and Starlink. He is known as a man with many missions.
CEO of Apple, one of the world's most expensive brands, Tim Cook, joined the company in 1998. In 2011, after the death of Steve Jobs, Cook headed Apple and doubled the company's revenue and profit. Moreover, the Apple Company is now focused on manufacturing environment-friendly and high-recyclable products.
Jeff Bezos: Amazon Founder
Perhaps there may be anyone who doesn't listen to the Amazon Shopping app or website. Amazon is currently the world's largest online sales company. He was ranked second in the Forbes 400 list of wealthiest Americans in September 2022, with a net worth of $151 billion.
Sundar Pichai: CEO of Google
Considered one of the most influential tech leaders, Sundar Pichai, CEO of Google, received the Padma Bhushan award in 2022. He is an Indian-born American Executive of Alphabet Inc. and its subsidiary Google. He added Android to the list of Google Products in 2013.